Rawstudio's unique chess set is deceptively simple in its finished beauty. Each set includes a handcrafted stitched leather board and thirty-two precision cut, individually hand polished metal pieces, stowed inside a suede leather pouch and presented in a carbon blue archival box.
The rawstudio chess set is contemporary and minimal in design aesthetic. Laid out, the chess pieces and board are simple and elegant, the two forms in complete and functional harmony. When putting away, the set transforms itself into two batons of interlocking pieces that fit snuggly around the rolled board, an intriguing second puzzle to explore.
Every chess set is crafted in small editions and individually hand finished in rawstudio by designer Nick Rawcliffe.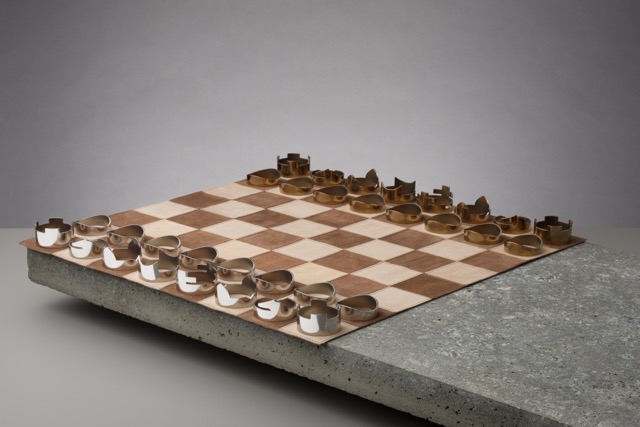 "This is the piece that other designers approach me saying "Man, I wish I'd thought of that!". I take that as the highest compliment." – Nick Rawcliffe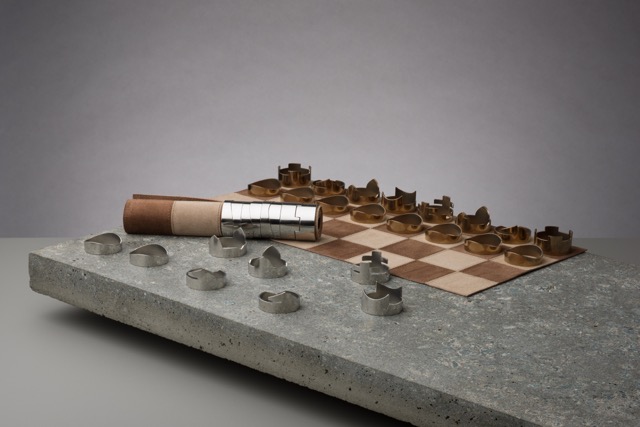 The story behind the design
"My uncle Stan taught me how to play chess when I was a nipper. I've still got his old set, pieces carved from wood still safe in a broken wooden box. Collectible games, games to talk about, and designs that transform themselves or reveal games within games, this is what made me create a chess set myself.
We use only leather and stainless steel to make this set. There are no chemicals or paints used to make the 'black' pieces, we heat them to 500degrees to oxidise the surface to get a deep bronze, sometimes with flecks of deep blue, each firing creates a slightly different hue.
The pure leather boards again are one material. We use the suede and leather side to differentiate the black/white squares.
We have the chess set with us at every show and meeting at the studio, not only is it a talking point but sometimes we convince people to stay and play a game!"
-Nick Rawcliffe
Details
Price
£750
Dimensions
Board laid flat: 40 x 40 cm (16″ x 16″)
Boxed: 24 x 5 x 10 cm
Materials
Heat treated, hand polished, stainless steel pieces made in England.
Leatherwork crafted in Lancashire.

Finished in our studio by us.
Care
Pieces can be polished with a soft cloth. Do not use anything abrasive.
Suede can be cleaned with a specialist brush.


Entirely made in England.