This is the piece that other designers approach me saying "Man, I wish I'd thought of that!" I take that as the highest compliment.
My uncle Stan taught me how to play chess when I was but a nipper. I've still got his old set, pieces carved from wood still safe in a broken wooden box. The board was a piece of card. No idea where that is. This chess set lives in its two forms in complete, functional harmony, transforming like Optimus Prime. Each finely tuned piece fitting snug to its other half and all together keeping the board safe.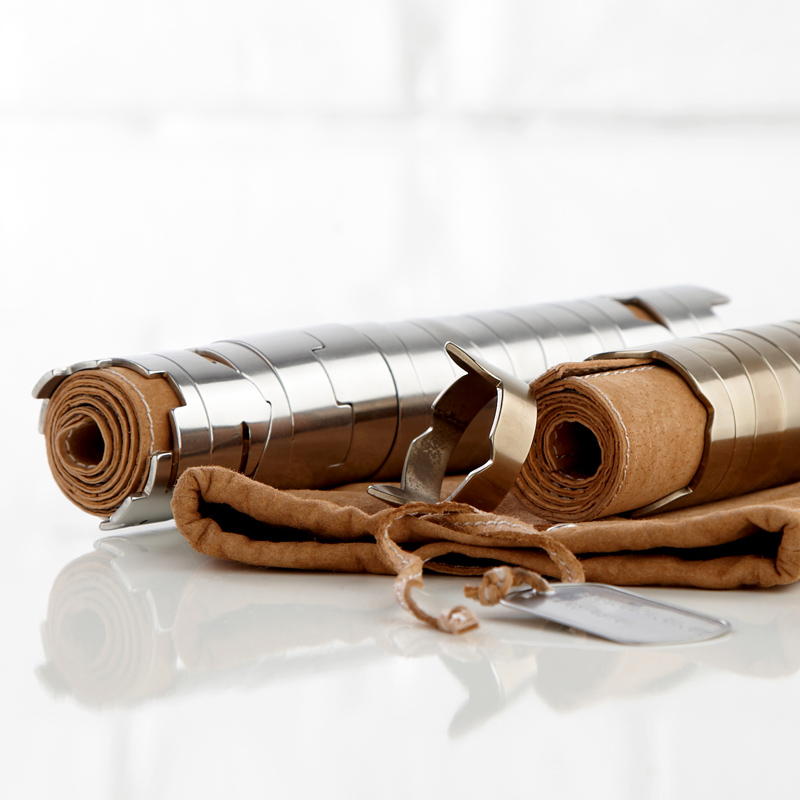 "This is the weapon of a Jedi knight"
Geek knowledge
My favourite thing with this design is how we use only leather and stainless steel to make this set. There are no chemicals or paints used to make the 'black' pieces, we heat them to 500degrees to oxidise the surface to get a deep bronze, sometimes with flecks of deep blue , each firing creates a slightly different hue.
The pure leather boards again are one material. We use the suede and leather side to differentiate the black/white squares.
And if that's not cool enough they look like a pair of light sabres when packed…
This chess set is only available from us, despite some other websites showing it for sale on their own sites to make them look good. What am I supposed to do about that?
Details
Price
£395
Dimensions
Board laid flat: 40 x 40 cm (16″ x 16″)
Boxed: 24 x 5 x 10 cm
Materials
Heat treated, hand polished, stainless steel pieces made in England.
Leather sewn by Stella Soomlais.
Preservation grade box, made by third generation box makers in London.
Finishing in our studio by us.
Care
Pieces can be polished with a soft cloth. Do not use anything abrasive.
Suede can be cleaned with a specialist brush.


Made in England.